Maximum participants in an international virtual marathon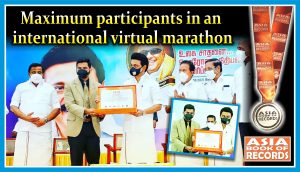 Kalaignar Memorial International Virtual Marathon, Tamil Nadu, India, set a record for organising an international virtual marathon. A total number of 19,596 people from 37 countries participated in the marathon, which commenced on August 7, 2021 and ended on August 31, 2021.
A total amount of INR 56,02,693 was raised and donated to the Tamil Nadu CM Relief Fund. A 'Certificate of Achievement' was presented to the Honorable Chief Minister of Tamil Nadu, M.K. Stalin, along with his Ministers Ma. Subramanian, K. N. Nehru, K. Ponmudy and MPs T.K.S. Elangovan, R.S. Bharathy.